The Paperweight Collectors Association of Texas (PCA-TX) was organized June 28, 1986, to foster interest in the art of the paperweight and related glass art works, to share knowledge with other interested people, and to provide a forum for fellowship with other paperweight collectors and dealers. PCA-TX is a qualified tax-exempt non-profit organization under Section 501(c)(3) of the Internal Revenue Code of the United States. Contributions to the Association are tax-deductible.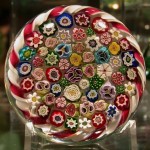 PCA-TX Activities include hosting three meetings a year on subjects of interest to the Association's membership; publishing a newsletter sent to all members containing articles of interest and details of upcoming meetings and events; maintaining an extensive loan library of literature and videos related to paperweights, paperweight-related objects, and other art glass subjects available for use by all Association members; and periodically sponsoring exhibits of paperweights in libraries and other public facilities.
PCA-TX Membership is open to anyone who pays the established annual membership contribution of $20 and agrees to abide by the Bylaws. The membership period is from January 1 through December 31, and currently PCA-TX has 100+ members. Join us!
PCA-TX Meetings are open to the general public and free of charge. Meetings usually feature a guest speaker, either a glass artist, a dealer, or a layperson who is knowledgeable concerning glass artwork, artists, and/or a particular area of art glass collecting. For convenience and diversity, meetings are held in different Texas cities such as Houston, Dallas, Austin, Kerrville, San Antonio, Corpus Christi, Waco, New Braunfels, Nacogdoches, Fort Worth, and College Station.