Paperweight glass artist Gordon Smith last visited PCA TX in October 1992 and at that time had been interested and involved in glass artistry for 17 years. He studied at Salem County Community College in Penns Grove Borough (now Carneys Point Township), New Jersey.  In 1980 while working at a firm owned by the Kontes brothers, Nontas and James (Jim), they encouraged him to explore paperweight making and to pursue a relationship with Wheaton Village when not at work. The Kontes brothers became Gordon's early mentors as he began to purchase his own equipment and develop his skills making paperweights. They had the foresight to recognize the talent in Gordon's early work and encouraged his art.
Gordon was given the opportunity to develop designs that would debut at the Arthur Gorham Paperweight Shop at Wheaton Village during the May 1982 Paperweight Village Weekend. The Gordon Smith flower and strawberry design paperweights sold immediately at Wheaton and resulted in more orders. to fill. Two other designs, a lady slipper and bearded iris were also on view.  We owe Mr. Gorham a debt of gratitude for nourishing several South Jersey paperweight artists including Paul Stankard, Pete Lewis, Jack Choko, and the Banfords in addition to Gordon Smith.
Ten years later, Gordon brought his "Marine Life" series to the PCA TX meeting in Austin, Texas.  It was in this series that Gordon learned how to apply scales to fish and place tiny bits of glass together to replicate colorful coral reefs. Gordon's paperweights continue to feature wildlife in their natural environments including snakes with hundreds of applied colorful glass scales, using a technique some call "scaling." The detail included in Gordon's weights is readily apparent upon close inspection. It difficult to imagine just how anyone could have the patience to create these works of art.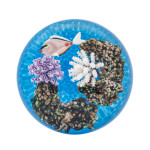 Gordon's collaborative work creating paperweight sculpture with Barry R. Sautner, the master of diatreta, has resulted in highly prized collector pieces. Gordon also collaborated with pate de verre artist, Anna Boothe. A wine goblet with milkweed and butterflies on a paperweight base of milkweed with a chrysalis is illustrated in the Annual Bulletin of the Paperweight Collectors Association Inc., (2009) article written by Bernard A. Drabeck , pp. 99-104.
Gordon continues to display his highly developed technical skills as a glass artist creating paperweights that are pursued by collectors. Whether it is a Trillium bouquet, tree frog, koi fish, or coral snake you are seeking, Gordon Smith is bound to have created one of the finest specimens you can find in glass.
Gordon will be at the February PCA TX meeting with Leo Kaplan, Ltd. (136 E. 57th Street, NY, NY – Suite 605 (6th Floor) exhibiting  paperweights in Galveston, Texas.