To further the art of the paperweight, the Paperweight Collectors Association of Texas, Inc. offers scholarships to glass artists wishing to advance their paperweight making skills.  If you are a paperweight artist who has identified a class that you want to enroll in, fill out the attached form and send it to our PCA-TX Scholarship Committee for review.
We invite you to apply.
Sunny Lu Peer Memorial Scholarship Fund – Click Here to Apply!
Current Scholarship Recipients
2016 – David Graeber to study at The Studio at Corning Glass Museum with William
Gudenrath – "An In-Depth Introduction to Venetian Techniques"
Pansy created by Damon MacNaught for Sunny Lu Peer Scholarship Grant 2015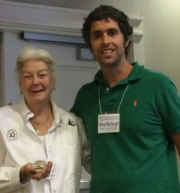 Past Scholarship Recipients
Damon MacNaught – 2015 to study  lampwork encasement with Debbie Tarsitano. MacNaught also received the 2012 Scholarship to study with Victor Trabucco at The Studio of the Corning Museum of Glass.
Sasha Tepper-Stewart – 2015 to study at the Pilchuck Glass School class "Out of the Flame & Into the Fire"
Damon MacNaught – 2012 to study with Victor Trabucco at The  Studio at the Corning Museum of glass.
Raza Ulabdin Shah – 2010 Student at University of Texas – Arlington
Vanessa Montano – 2009  Student at University of Texas – Arlington studied at The Studion at the Corning Museum of Glass with Loren Stump
Save