Some glass paperweight artists are so good at matching seasons. This article features several paperweight artists whose work evokes summertime!
Jim D'Onofrio, is described as providing us with three-dimensional snapshots of people, animals, and creatures that let our imaginations tell us what they are. He describes himself as a storyteller in glass and certainly his stories are many and varied. In this paperweight, two dogs are featured being playful outdoors while whispy clouds float overhead in the blue sky. But wait! Perhaps we are seeing a large cat and a dog on a raft in this story!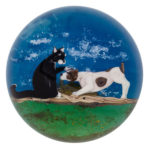 Melissa Ayotte brings summer to life with flowers. The red poppy in this paperweight is exceptionally brilliant and matched with blue, white, orange, pink, and gold stems of various flowers. Anyone would be pleased to have this bouquet on their table this summer. You may hear Melissa speak about her work being a container of light that gives us the opportunity to reflect on nature and the natural world and in this case focus on the flowers and beautifully shaped bouquet. Melissa brought this image to life in 2012.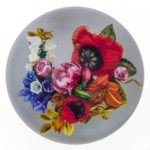 Both Jim and Melissa worked with accomplished artist Paul Stankard in his New Jersey studio; Jim in the 1980s and Melissa in early 2000.
Hot pinks are always great in the summertime. Take a look at this paperweight with hot pink and hotter pink accented with three white flowers containing bright yellow centers. Anyone would enjoy sitting in the shade with a cold lemonade in one hand and the opportunity to hold and enjoy this paperweight in the other.